Best to Worst Zodiac Signs at COMMUNICATION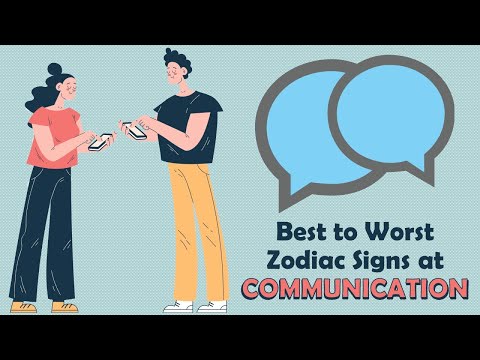 Communication is a skill everyone has to have to fit into society.
But communication is a lot more than just talking. It's being aware of one's wants and emotions. How to convey those emotions in a way others understand. Listening to others and comprehending what they are saying. Listening with compassion and respect.
It may be surprising where each of the zodiac signs falls on this list. That is because no matter how good a sign is at talking, they can miss out on all the other points of communication.
Watch on to find out the zodiac signs best to worst at communication.
#ZodiacTalks
More Trending Videos:
These Zodiac Signs Can't Get Enough Sex A
How Zodiac Signs REACT to a PUBLIC PROPOSAL Y
These 4 Zodiac Signs Think RULES were Made to be BROKEN w
These Zodiac Signs CANNOT HANDLE STRESS 0
How FLIRTY Are the Zodiac Girlfriends ??? g
These Zodiac Signs are RIDICULOUSLY JEALOUS E
Zodiac Signs Ranked on If They LOVED or HATED QUARANTINE Q
These Zodiac Signs Won't ASK for HELP When STRUGGLING 4
TECH SAVVY Zodiac Signs Ranked 8
4 Most COMMITTED Zodiac Signs o
How NOSTALGIC are the Zodiac Signs I
These 4 Zodiac Signs Can't PARTY Enough M
These Zodiac Signs FALL in LOVE Ridiculously FAST M
These Zodiac Signs Can HOLD a GRUDGE FOREVER U
These 4 Zodiac Signs are PRONE to DEPRESSION 4
These Zodiac Signs FLIRT WITHOUT even REALIZING it c
How Each Zodiac Sign FEELS MOST LOVED in A Relationship w
Top 4 EGOMANIACS Zodiac Signs o
Zodiac Signs When They Are MAD 4
You'll REGRET BREAKING UP with these 5 Zodiac Signs o
How To CHEER UP the Zodiac Signs w
Top 4 PASSIVE AGGRESSIVE Zodiac Signs I
How Each Zodiac Sign SHOWS INTEREST M
Top 4 Zodiac Signs who are MOST LIKELY to CHEAT Y
Top 4 STRONGEST LEADERS of the Zodiac U
© 2020 www.ZodiacTalks.com
Connect with us on:
Blog – /
Facebook – s
Pinterest – s
Instagram – /
Tumblr – /
Twitter – s