ALL ABOUT SCORPIO MAN TRAITS & PERSONALITY (Understanding Scorpıo Man?)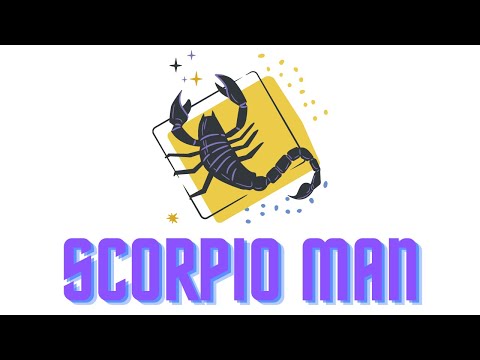 ALL ABOUT SCORPIO MAN TRAITS & PERSONALITY (Understanding Scorpio Man?)
LOVE, PERSONALITY TRAITS, AND MORE FOR THE SCORPIO MAN
Scorpio Man: Personality Traits, Love, and More
Overview of the Scorpio Man and His Personality Traits
Scorpio guys have a reputation for being the zodiac's bad boys.
These brooding loner types, who prefer long black trench coats, are frequently in a band, ride a motorbike, or practice some sort of dark magic – or, perhaps, all of the above!
Of course, not all male Scorpios will match this model, and many may surprise you with their distinct lack of spookiness and easy warmth. However, it is uncommon to find a Scorpion guy who does not at least go against social standards and have some interactions with subcultural elements or spirituality. With their piercing eyes that appear to peer straight through you, these males are notorious for having highly strong personalities. A Scorpio will sit on the sidelines, watching what everyone else is doing while making his own plans.
What precisely are you planning, you may wonder? The reality is, they may not even realize they are doing it, but they can't stop themselves. Life is like a gigantic chessboard for these men, and they prefer to strategize meticulously, always remaining seven steps ahead of the game. A Scorpio man will mosey into the party and silently observe the scene, not much for small conversation. Don't allow his reserved demeanor fool you into believing he's not paying attention — even the slightest facts are saved for later use, especially if he's developed an interest in you.
Still waters run deep with this one, so make no mistake – even if they appear to be the most confident person you've ever encountered, most Scorpios have deep-seated emotions and are highly sensitive. Scorpios symbolize Pluto, the God of the Underworld, and are passionate, secretive, and extremely amorous (and one of their planetary rulers, along with Mars, God of War).
These guys are anything but tame, uninteresting, or vanilla, so get ready to explore the depths with them if you decide you're ready to go there.
The Scorpio Man in Love and Sex
When engaging with a Scorpio guy, the darker parts of human sexuality and love frequently come to the fore. He enjoys probing his partner's deepest anxieties and secret wants, and discovering the places within them where they are most vulnerable.
You can find yourself spilling all your innermost secrets within seconds of meeting this person. Scorpion males are famously jealous and possessive while in love, often showing stalker-like behaviors after you've gone away. This is because, like wolves, most of these males want a life partner – and if they've connected with you emotionally and truly let you in, they want to go the distance. Casual dating and meaningless relationships are rarely appealing to these men, who love in a deeply dedicated and all-consuming way. Once you've committed to each other and been granted access to his inner sanctuary and the deep caverns of his heart, he'll treat you like royalty and shower his sensuous abilities on you until you're gasping for mercy.
Scorpios may be exceedingly harsh when they are irritated, frequently stating things that seem unduly harsh or definitive when they are cornered. The deadly sting of a deceived Scorpion's tail may be very painful, so once you've gained their confidence, treat them with care and compassion. They are quick to draw conclusions or be fatalistic about the connection, and it might be tough for them to move gently. Falling in love with a Scorpio is always a plunge into the unknown, so put on your scuba gear and ready to explore what surprises await below.
The Scorpio Man's Family and Home Life
Visiting a Scorpio man's house may seem like entering the Batcave, complete with a control center where he works on his computers, hidden hidey-holes for all his favorite possessions, and a little lair where he sleeps (and does other things that involve a bed).
This man's bedroom may not be a place you'll be invited to unless you've demonstrated a genuine desire to get to know him. Many Scorpio men would build intricate canopies over their beds to keep light out while sleeping or to create an insular and private setting for sexual adventures.
scorpio man,understanding scorpio man,scorpio zodiac sign,scorpio personality traits,scorpio traits,scorpio male,scorpio boy,scorpio facts,scorpio qualities,scorpio sign,scorpio in love,scorpio traits male,scorpio traits and characteristics,scorpio traits and personality,scorpio traits male personality,scorpio man personality,scorpio men,scorpio man in love,scorpio facts zodiac,scorpio facts male,scorpio zodiac sign facts,scorpio sun