STYLING EVERY ZODIAC SIGN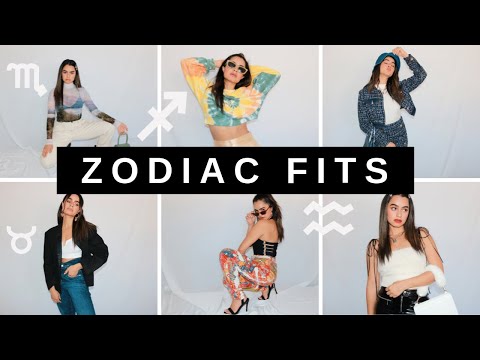 I'm an astrology meme junkie, not an astrologer so this is all in good fun.
I used clothes from my existing wardrobe and created outfits based around each astrology stereotypes.
I'm a Virgo and obviously own all this wardrobe 🙂
Hope you have fun watching as much as I did playing up your sign.
Definitely leave a comment and let me know your sign and your favorite outfits
If you're looking for a good astrology meme account to follow, my favorite is
@notallgeminis
Libra:
Set: From trip to Shanghai
Shirt:
Shoes:
Bucket Hat:
Necklace:
Handbag: vintage
Scorpio
Top
Pants (similar)
Heels (similar)
Hair Clips
Handbag
Necklace
Sagittarius
Top: Song of Style x Revolve
Pants:
Shoes:
Necklace: From Mexico
Bag: (similar)
Capricorn
Blazer
Blouse (similar)
Denim
Shoes:
Aquarius
Top: Thrifted
Pants: (Similar)
Shoes:
Bag:
Pisces
Sweater
Pants: thrifted
Shoes
Sunglasses (not available)
Handbag; Nunoo (not avail)
ARIES:
Suit (similar)
Shoes (other color)
Headband (similar)
Bag: (not avail)
TAURUS
Top: (similar) http://bit.ly/33tZkbx
Shoes https://amzn.to/2p5rDhx
Star sticker:
GEMINI
Cardigan (similar)
Pants
Shoes (not avail) Check the REAL REAL, Jacquemus.
Bag (Carla Fernandez in Mexico City)
Scrunchie (similar)
CANCER
sweater (different color ways)
Leggings: (not avail)
Bag: Nunoo (not avail in USA)
Scrunchie (similar)
LEO
Bag (different color)
Pants Vintage Moschino
Top: Thrifted
Shoes (similar)
Glasses:
Earrings
VIRGO
Blazer: Vintage
Top
Jeans:
Shoes:
Earrings (sold out Nasty Gal) similar..
FOLLOW ME
Website:
☆Instagram:
☆Twitter:
☆Facebook:
☆ FB Group:
Spotify playlist -Not Bland:
Shop my Amazon Faves:
Buy my workout eBook. The Glow Getter's Guide to Fitness. Quick and effective workouts with beauty tips in between.
DISCOUNTS
Shop with me @glossier to receive 10% off your first order and free shipping on all orders $30+ !!
15% off T3 Micro products. Use code AMYT315
20% off Re/Done:
Any business inquiries: amy.pepperpout@gmail.com
♡ Help Translate my videos:
*FTC: This video is NOT sponsored. Some links I provide are affiliate so I earn a commission when clicked. I use these links to make it easier for you to find as well as continue to support my channel.